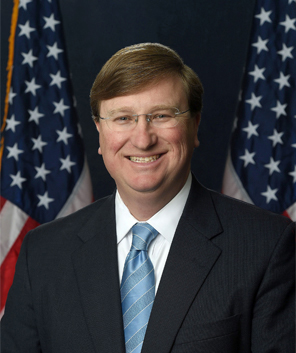 65th Governor of Mississippi
As the 65th Governor of Mississippi, Tate Reeves continues to build on his strong record as a conservative leader who fights to guard taxpayers' dollars, improve educational opportunity, and grow new careers so that our state's best and brightest can raise their families and thrive here at home.
In his inaugural address, Governor Reeves promised that this would be an administration for all Mississippi. He committed to a mission to create a climate where good careers are plentiful with every Mississippian prepared to pursue them, as he has every single day of his time serving our state.
Upon taking office, Governor Reeves inherited a crumbling corrections department and a scandal-plagued human services department. He took immediate action to stem the existing issues and begin the process of rebuilding, shedding light on the issues and installing the best leadership to help him turn the departments around to work for the people of Mississippi.
While tackling the inherited issues within government agencies to provide for the safety and human dignity of all Mississippians, Governor Reeves simultaneously led our state through historic flooding and tornadoes and a worldwide pandemic—all within his first 100 days in office.
Governor Reeves has continued to make history throughout his public service career. When elected in 2003 for his first public office, Governor Reeves became the youngest state treasurer in our country and the first Republican to hold the office in Mississippi. His business training in the banking sector made him our state's foremost advocate for balancing the state budget while minimizing state debt.
He was elected in 2011 and re-elected four years later as the 32nd Lieutenant Governor, leading the Mississippi Senate. His conservative management helped fill our state's Rainy Day Fund to over $550 million—the most in state history—and reduce the overall debt burden. He fought for transparency in how agencies spend tax dollars and stronger reporting requirements on taxpayer-funded incentive programs.
His commitment to long-term growth that creates better careers led Governor Reeves to propose the largest tax cut in state history through the Taxpayer Pay Raise Act, lowering the personal income tax and enabling more Mississippi employers to invest in jobs and better compete in the global marketplace.
Governor Reeves' upbringing in Florence's public schools made him driven to reform the education system to increase opportunity for all Mississippians. He has worked to increase investment in the classroom and enacted reforms to save money, strengthen achievement, and effectively communicate school performance. His new mission for our state is to give us more national board-certified teachers per capita than any state in the nation.
Governor Reeves remains committed to his inaugural promise to defend the loving culture that underpins our quality of life and grow our economy that lifts all of our families. He has pledged to work every day to make that promise a reality for all Mississippi.
A Rankin County native, Governor Reeves is a graduate of Florence High School and an honors graduate of Millsaps College, where he earned a bachelor's degree in economics. He holds the Chartered Financial Analyst designation.
Governor Reeves and his wife, Elee, are the proud parents of three daughters, Tyler, Emma, and Maddie.